Shuli Group is a professional fishmeal manufacturing enterprise integrating research, development, design, and manufacture. We can not only provide large-scale fish meal production lines and small integrated fish meal plants but also can equip fish meal processing lines with formulated output according to customer's requirements. The 250T/H fish meal plant equipment is designed according to the customer's requirements. It is a combination of 2 fish meal plants with 125T/12H.
Process flow of fish meal production line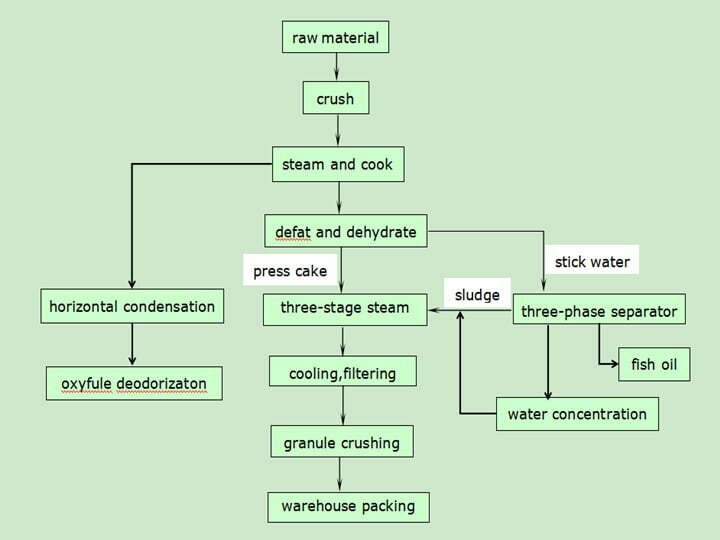 First, cut the fresh raw fish with a fish crusher, and then put it into the fish dryer to cook. In the process of drying, The bedroom condenser can deodorize the exhaust gas. Next, use the screw press to degrease and dehydrate the cooked fish pieces, which can get stick water and press cake. The juice finally turned into fish oil, fish sludge, and protein water through a three-phase separator. After drying cooling, and screening the press cake and sludges, They become fish meal and fish meal pellets. Further, crush the fish meal pellets, and we can get fish meal again. Finally, The fish meal packing machine will pack all the fish produced.
Equipment matching table of 250T/D fish meal plant
This whole fish meal combination equipment includes fish meal production equipment, material conveying equipment, fish oil separation equipment, and exhaust gas treatment equipment.

The fish meal production equipment is to process fresh fish into fish meal through crushing, cooking, squeezing, drying and cooling. The material conveying equipment is responsible for the transportation of materials in the production line. Fish oil separation equipment is mainly to separate fish oil, protein water, and fish meal. The exhaust gas treatment equipment is to deodorize the exhaust gas produced in the process of producing fish meal, which can prevent polluting the air.
Fish meal production equipment
Fish meal machine
Main equipment and parameters
QTY
Power(KW)
Material crusher
Φ600
● crushing raw fish 9 tons per hour, crushed raw fish crushed particles 30×20mm
●Outline size:2.0×1.2×1.7m.
2
22
Fish cooker
Φ1000×9000
●The spindle is made of Φ730×16 seamless steel pipe.
The inner and outer heating cylinder is made of Q235B steel plate, thickness 12mm,
The thickness of the sandwich is 10mm.
●The heating blade is made of Q345 with good wear resistance, thickness 6mm.
●The upper cover is made of stainless steel SUS304.
●Working pressure 0.7MPa, steam consumption 500kg/h per unit.
●With famous brand rotary joint and stainless steel hose.
●Outline size: 9.8×1.2×1.4m.
2
7.5
Screw press
Φ320X2-1800
●Using twin-screw extrusion, with ideal pressing effect and good degreasing effect.
●The screw blade is made of 18mm and 16MnR;
●Special compression ratio design according to the characteristics of raw material fish.
●The reducer adopts heavy-duty ZQ750-1 unit.
●The outer casing and door of the press are made of SUS304 stainless steel.
●Outline size:4.6×1.0×1.5m.
2
30
Steam dryer
Φ1300×8000
● The heating area of each unit is up to 100m2, with fast drying speed and high output.
● The inner cylinder of the dryer is made of Q235B with the plate thickness δ inside=16mm; the outer cylinder is made of Q235B with the plate thickness δ outside=12mm; the heating plate is 12mm.
●The spindle is made of Φ377X25 seamless pipe.
●reducer is made of ZQ750 type.
●Working pressure 0.7MPa, steam consumption 1000kg/h per unit.
●with famous brand rotary joints and stainless steel hoses.
4
37
Steam dryer
Φ1200×7000
●The heating area of each unit is up to 75m2, with fast drying speed and high output.
●The inner cylinder of the dryer is made of Q235B with the plate thickness δ inside=14mm; the outer cylinder is made of Q235B with the plate thickness δ outside=10mm; the heating plate is 12mm.
●The spindle is made of Φ377X25 seamless pipe.
●reducer is made of ZQ650 type.
●Working pressure 0.7MPa, steam consumption 800kg/h per unit.
●With famous brand rotary joints and stainless steel hoses.
●Outline size:7.8×1.6×2.2m.
2
30
Rotary cooler
YF1100*6000
●The bracket is made of Q235B carbon steel, and the part in contact with the material is made of Q235B carbon steel, δ=8mm.
●cooling of the material, with two levels of discharge.
● induced draft fan T4-72-3.6A, power: 3kw.
2
6
SFSP60-40 crusher
● Crushing size according to national fish meal standard.
●Made of T12 tool steel, good wear resistance.
●Equipped with cyclone separator;7001500
● Equipped with induced draft fan; Y6-41-4.5C 5.5kw
● Equipped with shut-off fan; 7001500 1.5kw
●Outline size:1.5×1.5×1.8m.
2
44

Material bin φ800 × 4000
●The barrel is made of Q235B with plate thickness δ=8mm.
●The spindle is made of Φ127X25 seamless pipe.
●The reducer is made of ZQ500 type.
2
11
Automatic weighing and packing machine
● Material: 304 stainless steel material in contact with materials
● Weighing capacity: 2-6 packs/min
● Weighing range: 10-50kg/package
● Weighing error: ≤±3‰
● Control method: PLC control
● Shape length, width and height: 2650*2080*2450
2
3.5+1.1
Material conveying equipment
fish meal machine
specifications
Main equipment and parameters
QTY
Power(KW)
Full set of conveying equipment
Raw material → cooking machine (frequency conversion speed control)
Φ300×6000 3kw
Steaming machine→pressing machine
φ300×5000 3kw
Press machine → first-class steam dryer
Φ250×6000 3kw
First-class steam dryer→Second-class steam dryer
Φ250×4500 2.2kw
Secondary steam dryer→tertiary steam dryer
Φ25×4500 2.2kw
Third-stage steam dryer→cooling and screening
Φ250×4500 2.2kw
Cooling and screening → crusher
Φ250×4000 2.2kw
Pulverizer → silo
Φ250×4000 2.2kw
Silo→packaging
Φ250×5000 2.2kw
10.Centrifuge→dryer
Φ160×4000 1.5kw
●Conveying wet fish raw materials are all made of SUS304 stainless steel.
●Conveying dry powder materials are all made of Q235B carbon steel.
20
46
Fish oil separation equipment
Fish meal machine
Main equipment and parameters
QTY
Power(KW)
Fish liquid sedimentation tank
●L×W×H (2000×3000×2000)
2
LWS400 Three-phase separator
●Effective separation of fish liquid solids to improve fish oil separation effect and quality.
●The parts in contact with materials are made of stainless steel.
●The separation capacity is 6-10t/h. Stepless variable speed motor, easy to control.
● Dimension:3.2×1.1×1.5m.
● Equipped with slurry pump.
2
26
Oil storage tank
Φ1000×1800
●The barrel is made of Q235B, plate thickness δ=6mm.
● sandwich plate thickness δ=4mm; production.
●Matching gear pump,1.5kw, cache box
4
1.5
Exhaust gas treatment equipment
Fish meal machine
Main equipment and parameters
QTY
Power(KW)
Collection and capture machine
Φ800X2000
● All are made of SUS304 stainless steel,δ=3mm.
4
condenser pipe
Φ800X6000
●The cooling tube is made of Φ32×2.0 and SUS304.
●The shell is made of Q235B carbon steel δ=6mm.
8
Photooxygen deodorization
Φ800X6000
●70 sets of photo-oxygen tubes.
●Shell made of SUS304 δ=2mm.
●Processing capacity 20000m³.
2
7
Coldwater tower NBDL100
● Cooling circulating hot water, material glass steel.
●Processing capacity: 100m³/h.
●Configuration of pipeline pump 100-100, power: P=5.5kw+3kw.
4
17
induced draft fan
The material is made of stainless steel
2
15
Other auxiliary equipment
Fish meal machine
Main equipment and parameters
QTY
Power(KW)
Electrical control cabinet
●The electrical components are made of Chinese famous brands with reliable performance.
●Electrical control box with operation indicator.
●The electrical control box adopts a back door, which is convenient for inspection and maintenance.
2
8-ton boiler pressure steam condensate recovery machine system
save energy about 15%
2
5.5
Installation materials, exhaust gas ducts, pipes, insulation, cables, lubricants
1