Fish meal production line
Fish meal is a kind of nutritious materials can be further processed for making animal feed, such as cat and dog food, rabbit food and all kinds of poultry feed. Due to its high protein and nutritional value, it is very popular in the animal feed market, therefore, the fishmeal making has become a promising business in recent years. To make fish powder, it is necessary to adopt a special processing craft and a series of fish meal production equipment as the support. The whole Shuliy fish meal production line mainly includes the steps of fish cutting, fish cooking, fish squeezing, fish powder drying and screening, and fish meal packaging.
What is the fish meal?
Fishmeal is a kind of commercial product which is processed by the fish after removing the edible parts for human consumption or lacking market value. Fishmeal is a kind of brown powder. Specifically, it is a product made by crushing, squeezing, drying and degreasing the above-mentioned various types of dead fish, small fish and fish processed scraps, shrimp, crab, mealworm and so on. The purpose of fishmeal is that it is rich in protein and can be added into the animal feed.
Nutritional characteristics of fishmeal in the fishmeal making machine
1.  Fishmeal does not contain difficult substances such as cellulose, which is difficult to digest. The fish powder has a high effective energy value, so it is easy to formulate high-energy animal feed using fishmeal as raw material.
2.  The fish powder is rich in B vitamins, of which vitamin B12 and vitamin B2 are very high. It also contains fat-soluble vitamins such as vitamins A, D and vitamin E.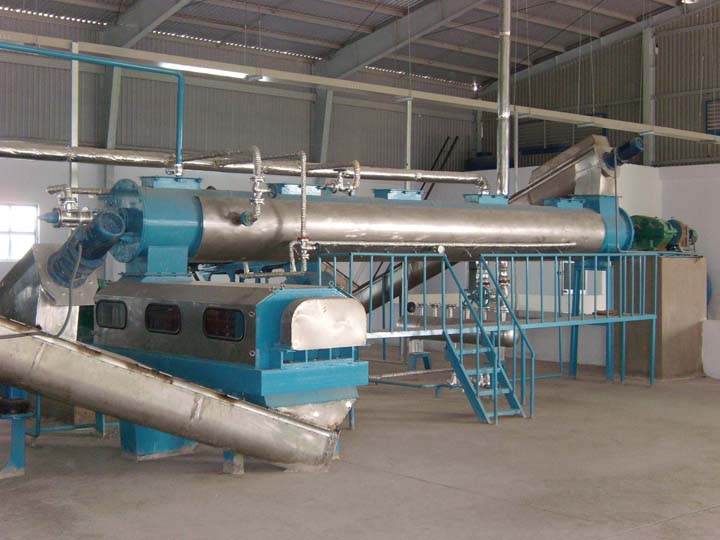 3.  Fishmeal is a good source of minerals, calcium, phosphorus content is high, and the proportion is appropriate. In addition, the selenium content of fish powder is also very high, up to 2mg/kg. In addition, the content of iodine, zinc, iron, and selenium in the fish meal is also high and contains an appropriate amount of arsenic.
4.  The fish meal contains an unknown factor that promotes growth. Although this substance has not been purified into a compound, it has been approved to stimulate the growth and development of animals.
How to make fish meal by the fishmeal production line?
The common fish meal processing procedure is big fish cutting——fishing cooking——cooked fish squeezing——fish powder drying and screening——fish meal packaging and fish oil processing.
Processing steps of the fish meal production line
Step one: fish crushing
If your raw materials are just the small size of fish, shrimp, and the mealworm, you may pass this step for transporting them into the fish cooking tank by a screw conveyor. However, if your fish with big size, you should use an automatic fish cutting machine to cut them into small pieces with the size of less or equal to 5 mm first.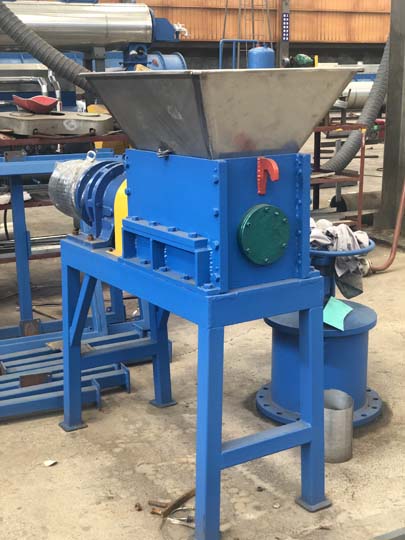 Step two: fish cooking
The crushed fish pieces will be delivered into the fish cooker machine for cooking about 20 minutes. The fish cooker adopts the steam heating method so that it should match with a boiler for providing the steam source. The cooking temperature in the fish cooking machine is about 150℃-160℃. The boiler can be bought or self-built by the customers themselves. This fish cooking step has two main functions for processing fish meal: cooked and sterilization.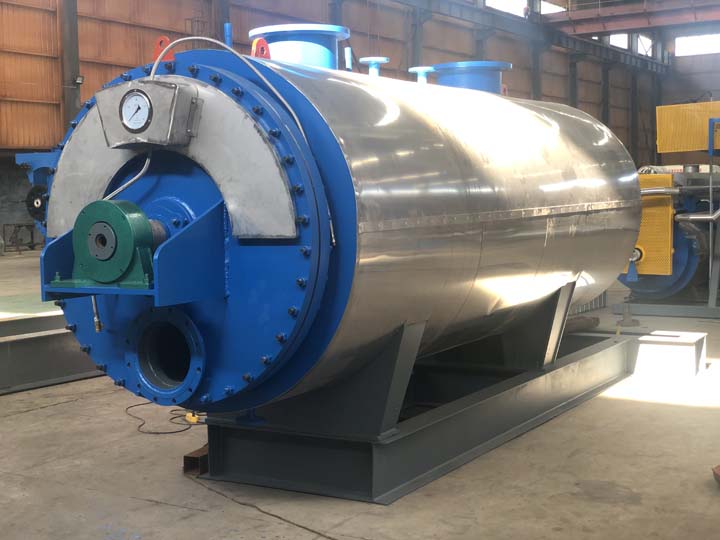 Step three: cooked fish squeezing
The cooked fish pieces then are transported into the fish squeezing machine for pressing out the water and fish fat quickly. This screw juicer machine can squeeze out the juice products such as fish oil and water of the fish to the maximum extent, and discharge the finely divided fish meat and fish residue from the slag discharging outlet. In fact, these processed fish residue and finely fish meat is the crude and wet fish meal, which should be further processed for making fishmeal. As for the extracted oil-water mixture, they can be further processed to making fish oil and fish protein production.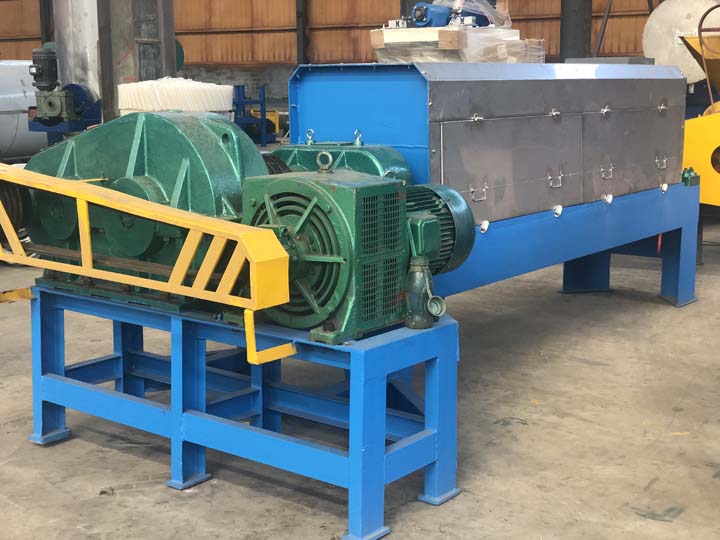 Step four: fish powder drying
After pressing, the fish residues still have a certain amount of water content. Therefore, we should use the fish meal dryer machine for fast drying. This rotary dryer machine can dry the fish meal quickly during its rotation process with the heating source of boiler steam. This dryer machine has a fully enclosed structure and equipped with a dust collector so that there will be no dust pollution occurred.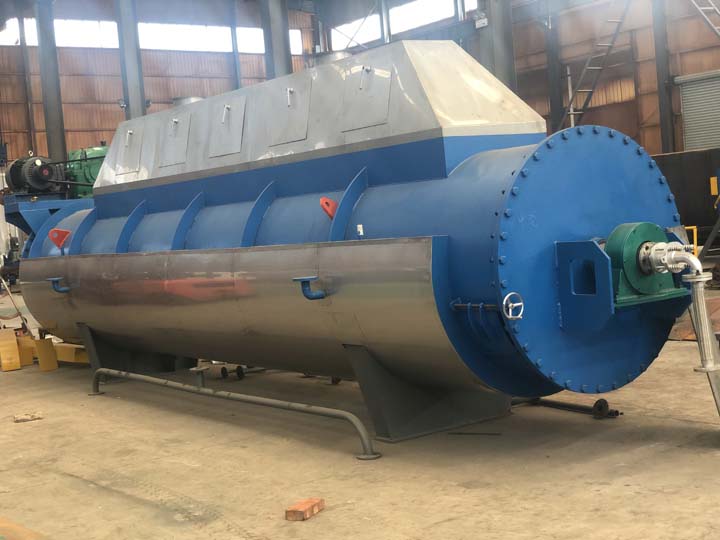 Step five: fish meal screening and re-crushing
After drying, the fishmeal should be screened by a drum screening machine for getting the fish powder with even size. The drum screening machine can be changed with different screen meshes with different screening holes. After screening, the fine fish powder can be packed, and the fish powder which is not the required size(usually 3 mm) can be crushed again by a small crusher machine with a dust collector to ensure the non-pollution environment. Then, all the fish meal can be packed.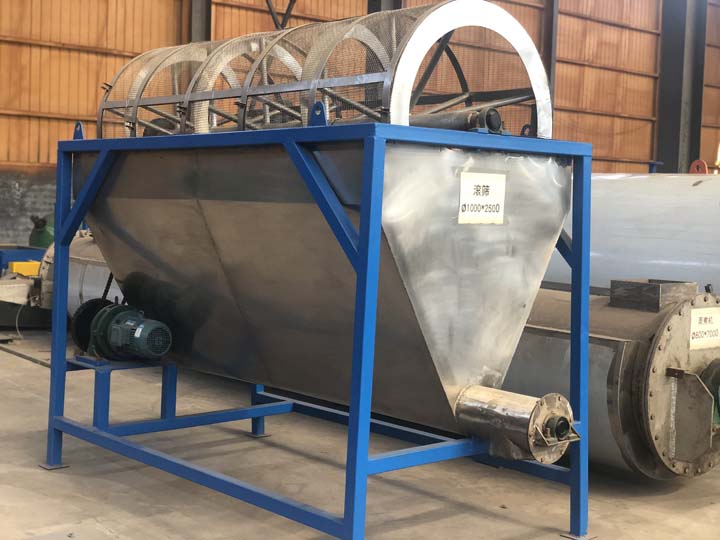 Step six: fish meal packaging
The final fishmeal can be bagged manually or packaged into individual small packages by an automatic packaging machine. We can provide the special packaging machine for high-efficient quantitative packing of fish meal products with the customized logo, letters, brands, pictures and so on.
Main advantages of this fish meal production line
The whole fish meal production line is very productive, 1-5 tons per day, 10-50 tons per day, 50-100 tons per day or even more final fish meal can be made. We can customize different fishmeal production lines based on the actual requirements of our customers.
All the machines in this fish meal plant are made of high-quality SUS 304 stainless steel which is corrosion resistant and durable so that can make sure these fish meal processing machines have a long time using.
Each of the equipment in this fish powder processing line can be different models and with different working capacities. Besides, as the professional fishmeal machine manufacturer, we can provide a series of supporting equipment and the spare parts for mass production of fish powder, like electric control cabinet, screw conveyor, cyclone(dust collector), the deodorizing equipment(spray tower, condenser), fish oil concentrator, stainless steel storage tank, boiler, air pump and so on.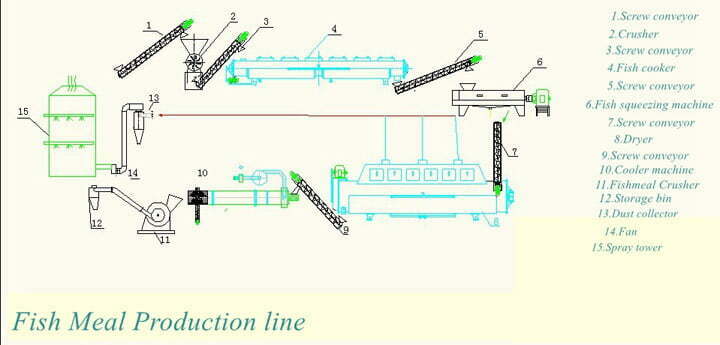 Applications of the fishmeal from the fishmeal production line
To make livestock feed. Fishmeal can be used for the processing of livestock feed. It is mainly used for the production of feed for animals such as pigs, chickens, and cattle. The feed for these animals needs to contain high-quality protein, especially for young pigs and chickens. Because young animals are in a period of vigorous growth, the demand for protein and the proportion of amino acids in proteins are relatively high. Fish meal is an animal protein in which the proportion of amino acids is closest to the amino acids required by animals.
Feed for aquatic animals. Fish meal powder is used as the main raw material for feed proteins such as fish, crabs, and shrimps in aquatic animals. The ratio of amino acids required for fish meal and aquatic animals is the closest. Adding fishmeal can ensure that aquatic animals grow faster.
Used to make feed for fur animals. Fish powder can be used to make feed for some fur animals such as foxes and crickets. Fur animals are mostly carnivorous, and the demand for protein is large in growth. High-quality fish meal as a protein raw material is the first choice for these animal feed ingredients.
Main craft for processing fishmeal, fish oil, and fish soluble paste
Fish meal machine working video